I always love re-doing these speaker covers cause its about the cheapest easiest thing to make your rear deck look awesome!
Strip the cover down pulling all the fabric off and pull the tape off(instead of pulling that tape off roll it off), but be gentle cause you can break the little slots very easy. Ive done 5 sets in the past 5yrs and every one had at least 1 cracked!
I use a hot glue gun to fix the cracks(use the glue on the underside)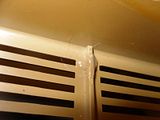 A little paint and your done! I always dab a little glue on the JBL emblem as it will be a little loose with no fabric on the cover! Anyone redone these in fabric? I would imagine it we be as hard as finding the tape u would use?