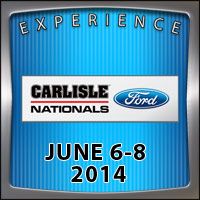 2013 CARLISLE FORD NATIONALS, CARLISLE, PA -
ONLINE REGISTRATION
http://store.carlisleevents.com/SearchResults.asp?Cat=24
Register for the 2013 Carlisle Ford Nationals Fun Field online!
ONLINE REGISTRATION CLOSES MAY 6, 2013!
Registration includes
FOUR DAYS (Thursday - Sunday) of unlimited admission and on-the-field parking for two people!
Carlisle Goodie bags!
After registering, a receipt will be emailed to you -
PLEASE BRING THIS RECEIPT WITH YOU
! If you are affiliated with
THE LINCOLN MARK VII CLUB
in anyway, there is a drop down menu choice to let the Carlisle Staff know! If the Club has TWENTY FIVE ONLINE REGISTRATIONS, it will guarantee another LINCOLN MARK VII CLUB TENT for the next year! The more registrations THE BETTER!
MULTIPLE VEHICLE DISCOUNTS AVAILABLE!
Cruising down from CT, MA, NH, NY?
Rolling over from NJ or OH?
Motoring up from DC, DE, MD, NC, VA?
REGISTER WITH OTHER OWNERS IN YOUR AREA!
Discount only applies to cars registered at the same address and purchased during a single order. (Limit of 5)
Registration cost is

$55.00US per car

! That includes four days of unlimited access to the event and parking ON the field!